Microneedle Derma Rolling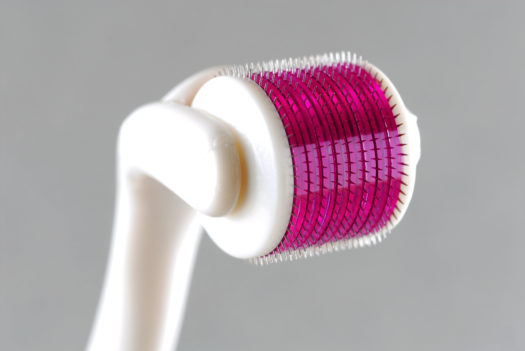 Facial Rejuvenation – Microneedle Derma Rollers
At the office, we use the best microneedle derma rollers available – the AcuLiftTM Derma Roller. All AcuLiftTM products have been approved by the American Acupuncture Council for use. They have been shown to stimulate collagen and elastin production. Long-term use is effective for addressing wrinkles, cellulite, stretch marks, acne scars, loose skin, and hair loss. They also boost the effectiveness of topically applied products that you use at home.
Clinical studies have shown that microneedle derma rolling can be just as effective as ablative treatments, such as laser resurfacing, chemical peels, and dermabrasion. It is also as effective as non-ablative treatments such as FraxelTM, IPLTM, or CO2 lasers for stimulating elastin and collagen production. And unlike some of these other procedures, the microneedling does not damage the dermis at all and only creates transient micro-trauma to the epidermis that is healed within minutes to hours.
Microneedle derma rolling works by creating a micro-trauma that triggers an inflammatory reaction, which begins an immune cascade to promote wound healing. The skin cells near the needle prick release growth signals to skin stem cells to create new fibroblasts that make collagen and elastin. During this process, your body will also build new blood vessels to promote circulation.
The Derma Roller can be used for your face and scalp, while the Body Roller can be used for your chest, back, arms, and legs.
Microneedle Derma Rolling can help with:
Overall improved tone and color
Pores
Wrinkles
Stretch marks
Cellulite
Acne scars
Loose skin
Hair loss
Call 978-237-5106 today to see if Microneedle Derma Rollers can help you and schedule your appointment!
Resources:
Micro Needling and Injecting Platelet Rich Plasma to Enhance Collagen Synthesis and Skin Tightening; Joseph F. Greco, PhD, PA/C (2006).
Clinical Study: MTS (Microneedle Therapy System), 5-Month Study; Dr. KB Joon, Department of Dermatology, Dongguk University, S. Korea (2006).
Collagen Induction Therapy Comparison (IPL vs Micro-Needling); Dr. HS Moon, Dr. SE Kim, Dr. DS Ko, Dr. AY Lee, Department of Dermatology, Eulji University School of Medicine and Dongguk University, S. Korea (2006).